VUCA Pulse Check for your coaching approach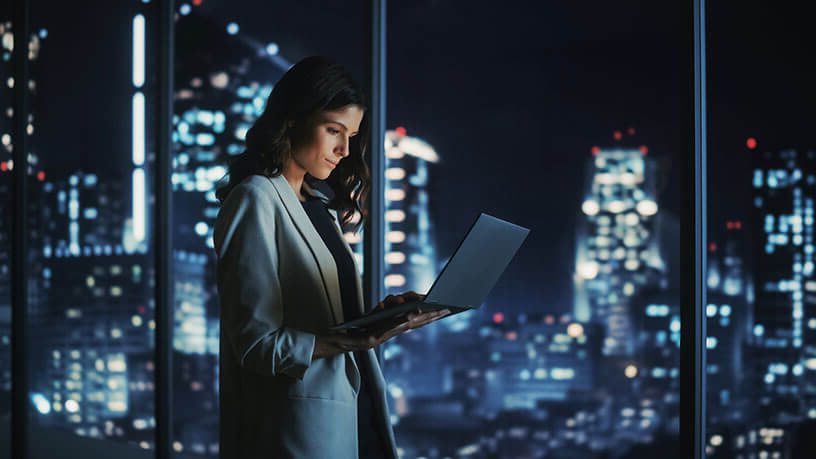 Possible applications
Field of application:
Coaching, personal development, self-assessment
Languages:
German
Target group:
Professionals, experts, managers
Duration:
ca. 35 minutes
The uncertain and complex VUCA working environment sets very specific requirements for those interested in coaching. The VUCA Pulse Check helps you as a coach to identify the VUCA-specific strengths and development areas of your coachees. Our self-assessment tool presents you with a comprehensive and valid picture of the key VUCA traits of your coachees, providing individual starting points for more in-depth questions and coaching strategies.
Uncertainty is a very good thing: it's the beginning of an investigation, and the investigation should never end.
The VUCA working environment and its challenges
The acronym VUCA is composed of the first letters of the specific characteristics of the modern working environment where people have to make decisions:
As part of the digitalised working environment, people are permanently exposed to abrupt, unpredictable (volatility) and unsettling (uncertainty) changes. They move in complex systems with a multitude of factors that make it difficult to maintain an overview (complexity) and to make a decision in ambiguous situations (ambiguity). The term encompasses the professional challenges and external environmental influences that are an integral part of the working environment for both staff and management: instead of developing long-term solution strategies, the aim is to actively deal with uncertainties and fluctuations (Salicru, 2018).

As the chart illustrates, two trends can currently be observed: while social change has had an impact on the way we work for a long time, additional factors have emerged over the last year or so. There has been a boost in digitalisation, and companies are increasingly using new tools such as Microsoft Teams or Instagram Recruiting. As we've become used to working from home, the boundaries between job and free time are becoming increasingly blurred. A high degree of autonomy and self-responsibility also comes into play. This process has transformed entire industries and even forced some to reinvent themselves, such as the catering and event industries. The additional changes are reinforcing the VUCA facets in all areas and leading to greater uncertainty and ambiguities, partly because new methods and processes are further increasing the existing complexity.
Positive growth trend – coaching as an efficient tool for professional and personal development
With this transformation, employee demands are also changing. Coaching can help those in management positions in particular to learn how to deal with the challenges of a VUCA-dominated work environment. This is one of the reasons why demand for professional coaching is growing steadily, as indicated in a survey by Rauen (2020). While there were 17.1 contracts per year per coach in 2006, 24.1 contracts were reported in 2017. Coaching, "having already become an established practice in almost all DAX companies", is also now increasingly popular in medium-sized and even small businesses (Rauen, 2011).
This is certainly positive news for your industry, but the increasing workload also places a lot of demands on you as a coach. After all, it's vital that you respond to the individual needs of your coachees and support their personal development in the best possible way.
Our answer: a tool that measures crucial VUCA traits
The VUCA Pulse Check is an efficient instrument that you can use to obtain helpful information, with coachees completing the self-assessment on their own.
Coaches strengthen the personal resources of people who make decisions under uncertainty. The VUCA Pulse Check offers coaches a tool that quickly and accurately reveals the individual factors that stress or energise each of your coachees.
ELIGO has developed a digital self-assessment tool for coaches which you can use in a targeted way to
a) gain information in the shortest possible time and
b) underline your scientific, professional and solution-oriented approach
In developing the VUCA Pulse Check, our psychometricians first analysed the challenges people face in the modern work environment. From this, we derived the attributes necessary to successfully deal with these challenges. In the last step, a self-assessment was compiled from requirement-related modules, covering the necessary VUCA competencies.
Our digital tool indicates the degree to which each of your coachees possess the qualities found in research to be important in the modern VUCA work environment. You receive valuable information about your coachees, quickly and effortlessly, which you can use to proceed to the next coaching phase. What's more, you can make your coaching process even more varied and digital.
While independently completing the online self-assessment, the coachees answer questions on:
Motivation
Interaction with other people
Confidence in their own abilities
Understanding of leadership
Dealing with failure and ambiguous situations
The results are clearly compiled in an easy-to-use PDF feedback report with interpretation guide. In combination with the coaching best practices personally developed by you and your development recommendations, the VUCA Pulse Check now allows you to expand your coaching toolbox to include a sound, innovative and solution-oriented tool.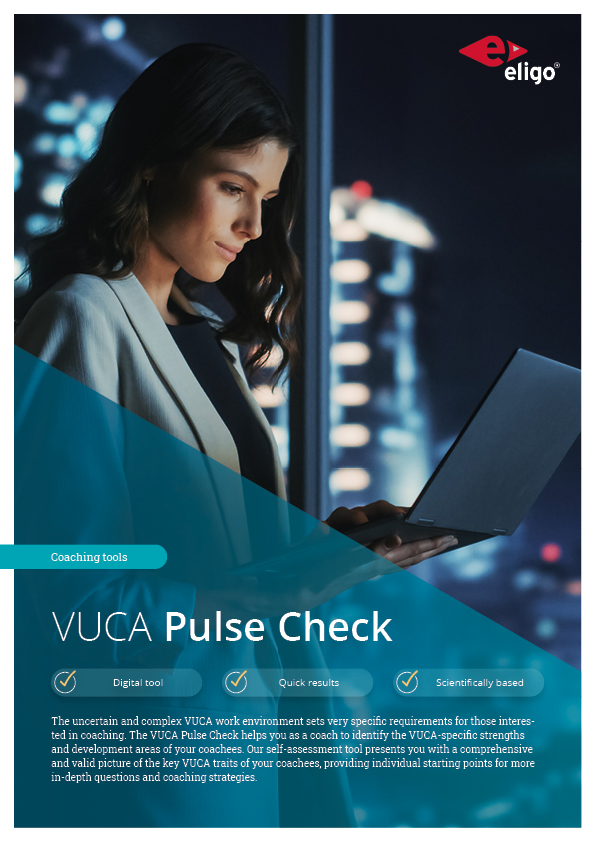 View
---
Interested in more information on VUCA Pulse Check?
Arrange a free meeting with one of our consultants and get more information, demo access to our services, features and result management, all tailored to your use case!