Possible applications
Field of application:
HR development, individual career development, recruiting, personal position determination, coaching
Languages:
German, English
Target group:
Universal, from trainees, professionals to managers
Duration:
flexible
What is a potential analysis?
A potential analysis assesses personal strengths, areas of development and the ability to learn. It uncovers possibilities for a future career path. The current situation plays a minor role in the analysis. It is rather the potential that counts, i.e., what a person can achieve in the future through strategic guidance and further training.
When is potential analysis useful?
Every participant can benefit from a potential analysis. Depending on the occasion, the focus lies on different questions. The following questions are typical for an potential analysis:
Potential analysis aimed at a specific position or career path: Where do I stand? What can I already bring to the table and what am I still missing? How can I learn this?
Professional orientation on the job: What competence have I been able to develop so far? Where are my strengths? What should I focus on next?
Graduates considering their future career: Which entry-level position suits me best? What is important to me?
Training and academic orientation: What suits me? What can I do and what do I enjoy? What career paths are open to me later?
Potential analysis: What make it worthwhile?
Ability to reflect to strengths and areas of development, including aspects rarely addressed in everyday life.
Chance to get to know the perspective of an unbiased person.
Ability to identify personal development needs and set a concrete goal perspective.
Potential analysis from A to Z
Potential analysis can be very diverse in form, content and scale. Online assessments, interviews, case studies, role plays and many other formats can all be part of potential analysis. The predictive power for career success varies depending on the methods and their combination. The relevant factors are the fit to the objective and, ideally, a mix of methods.
This can be as simple as an online assessment, followed by a competency-based interview. We've had the best experience with our clients when further behavioural observations are added, for example, when the interview is expanded to include conversation simulations, a presentation task or similar assignment.
Possible elements of a potential analysis with ELIGO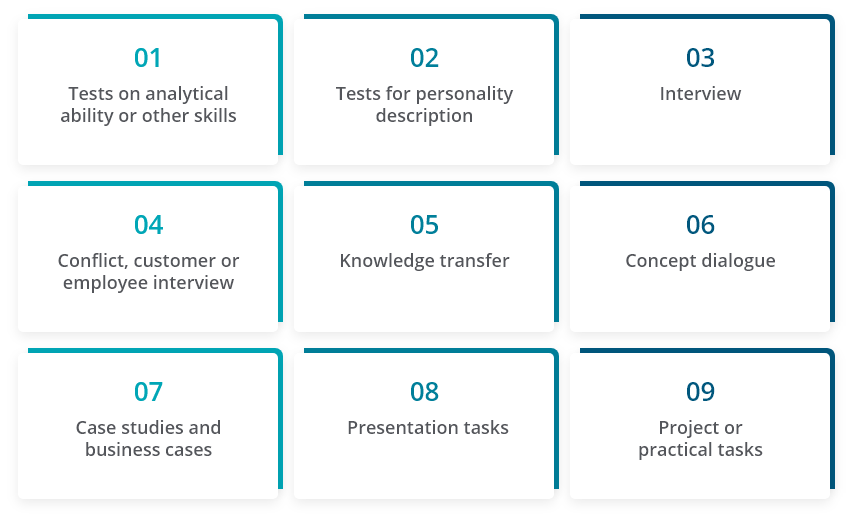 The participants' personal development needs are determined based on their individual situation. These typically include development goals and recommendations for appropriate development steps.
How can ELIGO help you?
ELIGO offers a wide range of services for potential analyses:
We offer you individual modules of the potential analysis, which you can use independently for your HR work.
Together, we conduct the potential analyses for your employees and assist you with our expertise.
You get an all-in-one solution and we take over the entire process from design and implementation to evaluation and recommendations for further development.
We observe and evaluate your potential analysis process. You receive valuable tips on how to further improve the effectiveness and candidate journey of your recruiting process.
Putting greater emphasis on potential
Together with our customers, we've changed how the recruiting process is viewed – moving away from exaggerated claims of "selecting the best" and the perfect fit and towards a focus on the person and an individual assessment of their present strengths, areas of improvement and, most importantly, potential for further development.
Download project sheet
---
Interested in more information on Potential analysis?
Arrange a free meeting with one of our consultants and get more information, demo access to our services, features and result management, all tailored to your use case!